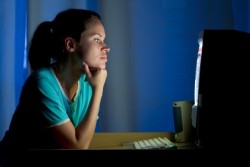 Time spent online is often productive and well spent but for some, a compulsive desire to use the internet plagued by highly unproductive use of the World Wide Web can be problematic. Internet addiction is characterized by an individual's desire to use the internet for things like social interaction, playing games, gambling or shopping compulsively in a way that reduces productivity, causing problems in life and leads to adverse consequences.
For immediate help, call
888-664-1143 to talk to a counselor.
If you are using the internet to the point in which your health, relationships, finances or productivity at work or home is suffering there's a good chance that internet addiction is to blame. Otherwise known as computer addiction, online addiction or internet addiction disorder, this compulsive need to use the internet can cause many drastic problems in an individual's life.
How Internet Addiction Develops
Internet addiction can develop in a number of ways. Most often, it's the compulsive use of the internet that develops as a result of a desire to gamble, shop or talk to others that is the main cause. Not all people who use the internet to do these things are addicted. Some people can surf the web for many hours a day without ever suffering from an actual dependence or addiction while others may be predisposed to having adverse reactions to their desire to surf. Every person's internet use is different and addiction is not necessarily a problem for each user. The way to tell for sure lies in the activities that are taking place when online and the ways that such activities affect an individual's personal life.
Signs & Symptoms of Internet Addiction
Various signs or symptoms can be evident when an individual is addicted to the internet. These symptoms will often differ from person to person and are not set in stone. There is no set amount of time that, when spent on the computer, is indicative of internet addiction. Here are some of the potential signs & symptoms of internet addiction that you should look out for:
Spending a lot of time online and losing track of time spent online
Having trouble completing other task such as work or home related tasks because of a desire to be online
Isolating yourself from friends or family members in order to spend time online
Becoming aggressive or offensive when time can't be spent online or online time is limited
Feeling guilty about internet use
Finding excessive enjoyment in activities that take place online such as having sexual gratification or feeling excitement about being online
When to Seek Help
If you or someone you love is addicted to the internet or has shown signs of compulsive internet use, it's time to seek help. There are various options available to assist you in getting over an internet addiction and making a full recovery. For instance, you may find that therapy and counseling work well or a support group could be beneficial—just make sure the support group takes place in a real environment not a cyber-world. Managing internet use is important on all levels, whether addiction is a problem or not.
If internet addiction has caused problems in your life, either in a relationship or at work or within yourself, it's time to get professional help. Most counselors will agree that the key to treating internet addiction is to get to the bottom of the problem and find out why the internet is compulsively used. For a compulsive gambler, counseling and therapy must focus on the gambling problem in addition to the internet addiction. For a compulsive shopper, the shopping must be addressed in addition to the internet addiction.
For immediate help, call
888-664-1143 to talk to a counselor.
(Visited 123 times, 1 visits today)