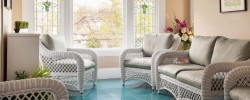 Outpatient rehab programs use many of the same treatment and rehabilitation techniques that are found in inpatient or residential facilities but they are utilized on an outpatient or daytime basis. Counseling and therapy as well as medical monitoring and support are all offered but the times during which these services are offered and level at which patients are monitored differs significantly from one program to the next.
Most outpatient rehab programs are open during regular business hours such as from early in the morning around 8 a.m. until about 7 or 8 o'clock p.m. These time frames allow patients to come in for treatment as needed without having to miss out on their regular schedule at work, home or school. An outpatient program is ideal for anyone who has a legit job, is attending school or has a strong support system at home and simply needs some additional counseling & guidance to continue in their efforts to recover.
For immediate help, call
888-664-1143 to talk to a counselor.
Benefits of Outpatient Rehab
The benefits of outpatient rehab focus mostly on the ability to receive treatment while staying in a regular daily routine. People who are not highly physically addicted to a particular substance, as well as those who have behavioral addictions such as a food or sex addiction can and do benefit from the treatment and counseling that is provided at outpatient facilities. These people do not necessarily need to stop working or going to school to attend treatment, they can do both.
Medical support is provided on a limited availability to patients in outpatient rehab so this method of treatment is not highly recommended for patients who have serious medical complications that require medical attention on a daily basis. The benefits that you find in outpatient rehab will differ from those that another patient sees but the usually focus on:
Ability to stay at home with family
Ability to continue to work or attend school
Ability to get help in a supportive environment
Ability to learn how to change poor behaviors
Ability to get well without stopping a daily routine
Who Can Outpatient Rehab Help?
Anyone who is highly committed to their rehabilitation can benefit from the support and care that is provided at an outpatient rehabilitation program but these programs are not for everyone. Those who have extreme physical dependence on drugs or alcohol are better suited to attending an inpatient or residential program of treatment prior to advancing to the more relaxed environment of an outpatient rehabilitation program. These programs do not provide around-the-clock medical care so if there is a dual condition that requires constant treatment, this method of rehab is probably not the ideal choice.
For immediate help, call
888-664-1143 to talk to a counselor.
(Visited 101 times, 1 visits today)